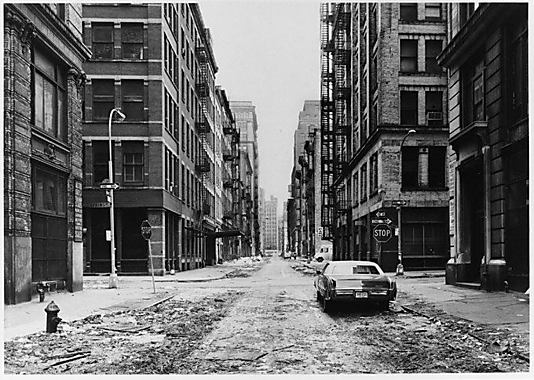 L
et me start by saying I used to love Crosby Street. It was one of those rare places where you could be alone in New York City. Amidst the hustle-bustle of Manhattan, blocks from Chinatown and Little Italy, one could walk unmolested in the night for a few precious blocks at least.
Crosby Street used to be empty, literally deserted, after 5 pm. Crosby Street's begin at Howard Street and runs north across Houston to its terminus at the eastern end of Bleecker. Crosby well into the 1990's had wholesalers and what seemed to be mostly closed store fronts or the backs of premises that fronted east on Lafayette or west on Broadway. I used to frequent an illegal beer hall there named "Red Stripe" which was "licensed" to only serve beer basically and played loud reggae. The bar man, Chris, used see me coming through the front door, pop a beer and top it up with Overproof from a bottle they kept behind the counter for regulars. Yikes!
In fact I was in there watching the Knicks playoff game the night of OJ's Bronco ride with Al, and the game was cut to watch that stupid occurrence and I can recall my reaction being an angry bellowed "What The F**K?!?!?!" followed by a cry of "Go back to the game!" It didn't happen...
This is the link to a NYTimes article about French former Arsenal, Barcelona and currently NY Metrostars football superstar Thierry Henry's move to New York City, specifically to a 15 million dollar triplex on Crosby Street:
http://www.nytimes.com/2012/07/16/sports/soccer/soccers-thierry-henry-relishes-the-new-in-new-york.html?nl=todaysheadlines&emc=edit_th_20120716
I looked on Google earth and using the street-view Crosby Street has become a place I no longer recognise.